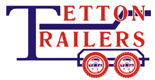 HOME PAGE
TRAILERS FOR SALE
TRAILERS FOR HIRE
BESPOKE TRAILERS
ROOF BOX SYSTEMS
ROOF BAR SYSTEMS
CYCLE RACKS
OTHER PRODUCTS
PARTS/ACCESSORIES
REPAIRS/SERVICING
USEFUL LINKS
CONTACT US
VISIT THE CENTRE


Based in the UK county of Cheshire, Tetton Trailers covers the regions of Shropshire, Staffordshire, Merseyside, Greater Manchester and North Wales.
As agents for quality Brenderup, Wessex, Bockmann and Dixon-Bate Boat trailers, as well as Thule Roof Systems, Tetton Trailers offers a variety of options to suit your towing and transportation requirements.
Our sales service offers a vast selection of trailers for every conceivable need – from compact goods, platform and tipping trailers to high-specification vehicle transporters, including boat trailers, car and motorcycle transporters and horseboxes.
We also carry a trailer hire range. Whether you need a light goods trailer to help with a house move or a motorcycle trailer rental for your touring holiday, we are here to help!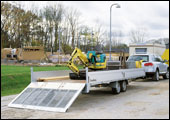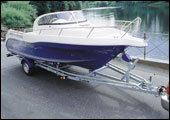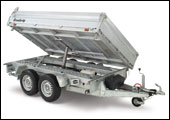 Tetton Trailers takes to the airwaves!
Have you heard our radio commercial yet? If not, click here to have a listen (MP3 format, approximately 350kb).
Dig this! Brenderup's mini digger transporter trailer…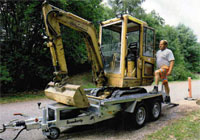 Allowing easy transporting of mini diggers, the MT 2600 features Brenderup's usual attention to detail easy access via a spring-assisted ramp, non-slip mudguards, integrated propstands and deck-rings, a heavy duty jockey wheel and even a bucket rest! The Brenderup MT 2600 is now available at Tetton Trailers for £1540 + VAT.
Platform sides: Steel • Box int. (LxWxH): 260x127x270cm • Total length: 423cm • Total width: 178cm • Loading height: 50cm • Total weight: 2600kg • Payload: 2075kg • Tyres: R13″
Here's a nifty solution for all you swingers out there…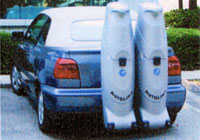 Introducing a safe, secure and stylish new way to transport your golf clubs: Autolinx. Mount it to your car just like a bike rack, and free up precious boot space for your plus fours! Whether you're a casual swinger or a regular clubber, you'll drive like a pro* with Autolinx.
Click here for further information and prices
* Tetton Trailers provides no guarantees that the Autolinx will improve your handicap or your swing!!!
Trailer for sale or rent!
You too can be King of the Road with Tetton Trailers selection of hire trailers. Our car and motorcycle trailer rentals are an ideal choice for racers transporting their vehicles to their next event, or motorhomers wanting to tow an extra set of wheels whilst on holiday. Our hire range also includes a light goods, platform, horse and box van trailers. Rentals are available on a daily, weekly or fortnightly basis.
Contact here to view our range of trailers for hire
Leasing options are now available!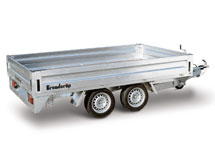 We now offer leasing options on a number of models from our extensive range. You could lease a Brenderup 5310 platform trailer (as pictured right) from only £14.67 + VAT per week, or a Bockmann Refridgerated Trailier (as pictured bottom right) from only £36.74 + VAT per week.Contact us for further information and examples

* Credit subject to status, licensed credit brokers are Beechwood Finance, written details available upon request. Finance leasing spread over three years with payments on a monthly basis.
Who said that trailers aren't cool?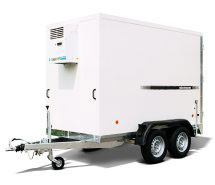 Tetton Trailers is pleased to annouce the arrival of the KK range of fridge trailers – one of Bockmann best selling trailers in the UK. With a wide range of sizes, weights and specifications available, it doesn't matter whether it's a standard refrigeration or actual freezer trailer you are looking for – this is the ultimate trailer range for you and your business.Contact us for further information!